Grishko Maya - The New Nikolay Maya - Original Russian Made Pointe Shoe manufactured by Grishko Nikolay
Grishko Maya - The New Nikolay Maya Pointe Shoe
Grishko Maya pointe shoe is made on the same last as the Ulanova I but features a machine-stitched suede sole, making the shoe lightweight and flexible. The shoe has a V-shaped medium vamp, and a medium platform. Like the Ulanova I and Fouette, Grishko Maya is a good choice for dancers with short toes, toes of even length, or wide feet with normal heels.
Available Color for Grishko Maya Pointe Shoe :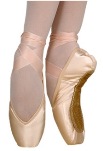 European Pink


Available Widths for Grishko Nova Pointe Shoe :

1X: Very Narrow
2X: Narrow
3X: Medium
4X: Wide
5X: Very Wide

Available Strengths for Grishko Nova Pointe Shoe :
Soft (S)
Super Soft (SS)
Medium (M)
Hard (H)
Super Hard (SH)

Remember to purchase elastic (item ELASTIC) and ribbons (item RIBBON), sold separately. 


Note: Pointe shoes should only be worn with proper training.They can cause injury, if worn improperly. 

If you are shopping for a first pair of point shoes, it is recommended that the shoes be fitted by a professional to ensure proper fit.
Suggested fit for Grishko Maya Pointe Shoe : Order (3) sizes smaller than your regular USA street shoe size.